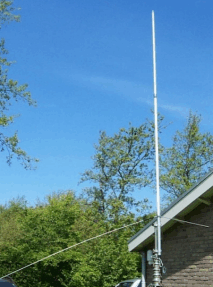 I have chosen this antenna for portable use, for all the Amateur Radio band's above HF which i can use are resonant on this antenna.
In practice this antenna is easy to put up and the use of the 3 band's 6 meter, 2 meter and 70 cm are meting my expectations
The antenna exists out of 2 screweble parts with 3 counter redials, where one excite the two other and is be uses for 6 meter counterpoint.
The antenna disassembled is 1.5 meter (59 inch) high.