| | |
| --- | --- |
| | HOMEPAGE OF |
Welcome to the homepage of Radio Amateur Station PE1OPM.
First i have to apologize on forehand for any spelling mistakes on this homepage.
My station is located at Molenstraat 33, 4641BA at the village of Ossendrecht in the Netherlands, between the city of Bergen op Zoom (left south of the Netherlands) and the Belgium border.
The coordinates of the station are N 51.23.15 and E 004.17.30 in maidenhead locator JO21DJ.
The radio's i'm using are a Condor 16 VHF (ex police rig), a Condor 3000 UHF (ex police rig), a Yeasu FT897, a laptop for using CAT and logging software.
The antenna's i'm using are an omni directional vertical for 2 mtr and 70 cm and a wire dipole of 2 * 15 mtr, fed with open line.
For further information on the equipment chose the appropriate button in the navigation screen.
I'm reasonable active on the HF bands, where i'm hunting for Lighthouse stations, Island stations en Special Event stations.
Together with my mate SWL NL12339 we're regular activating EU-038 (Wadden islands) en EU-146 (Zeeuwse islands)
Beside these activity's i take lot of pleasure to listen to the Dutch net on 80 mtr, and i'm a active member of DARES (see navigation screen) and i'm also a member of the Radio Amateur union VERON department Bergen Op Zoom. (dutch link)
My objective of this homepage is to let the reader know what my activities, as a Radio Amateur, are and give information about homebrew activities as well as making equipment useable for this purpose.
In the navigation screen you can find more information, and i wish the reader much pleasure reading this homepage.
QSL CARD PE1OPM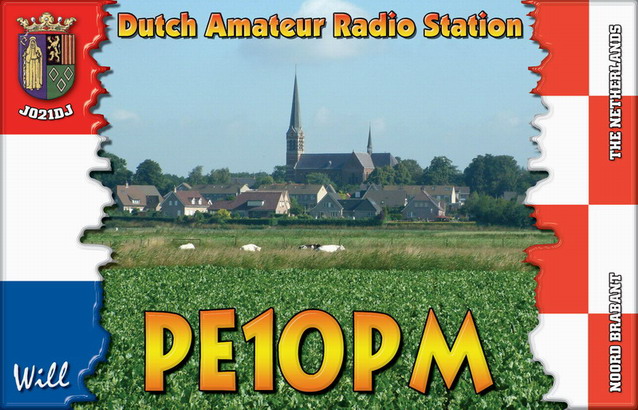 BACKSIDE